Enjoy great tours that will leave experiences for a lifetime
Adventure tours in Cancun, for all ages
It is time to take out the phone and do the best reel on this tour where it will seem that you are walking on the sea
The depths of the sea keep beautiful secrets and marine animals, learn how to dive here
Recommendations, experiencies and more… Take a look at our blog
With the objective of helping to conserve our natural spaces, Highlife, together with Blue Religion, carried out a cleanup in the area known as El Table.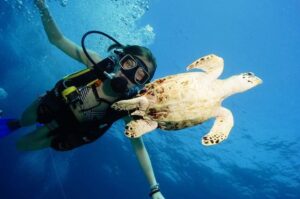 Diving in Cancun is spectacular.
Incredible coral reefs, tropical fish, crystal clear blue waters, abundant fish, sponges overflowing the coral walls, rays, sharks, turtles and more make Cancun a perfect paradise for scuba diving.
Come and discover the secrets and treasures that the Mexican Caribbean offers from the hands of expert and certified guides. We guarantee maximum security, quality equipment and lots of fun!
Highlife Crew, passionate about life, dedicated to showcasing the true beauty of Cancun.