1.- Interactive Aquarium Cancun
The Interactive Aquarium Cancun is an incredible experience for families with young children. Here, you can interact with sea creatures such as rays, starfish, and seahorses. The aquarium also showcases various exhibitions about marine life, interactive experiences, and a dolphin show. It's a perfect educational and fun experience for the whole family.
Ages: 2 years old and up
Duration: 2 Hours or take your time
2.- Kayaking in Nichupte Lagoon
Experience the natural beauty of Cancun from a unique perspective by kayaking through the Nichupte Lagoon. This peaceful adventure is perfect for families looking to escape the hustle and bustle of the city and enjoy the stunning landscapes of Cancun. Not only will you get to see exotic wildlife, but you'll also learn about the culture and history of the region.
Ages: 2 years old and up
Duration: 2 Hours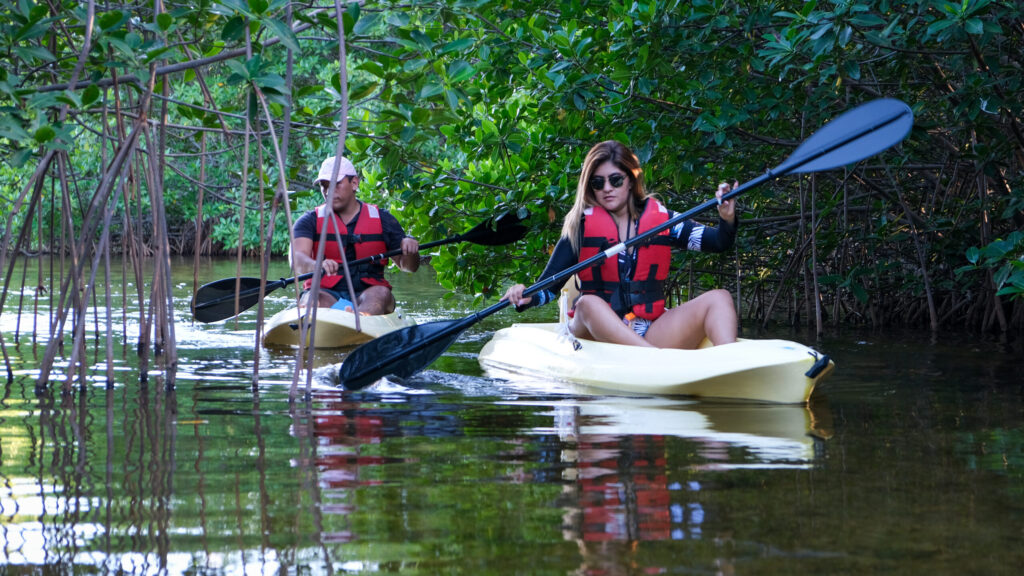 3.- Surf Lessons
Cancun is famous for its beautiful beaches and clear waters, making it the ideal place for surfing lessons. Whether you're a beginner or have some experience, you and your family can learn how to surf with trained instructors and catch some waves together. This thrilling activity is sure to create unforgettable memories for you and your kids.
Ages: 4 years old and up
Duration: 1.5 Hours
4.- Clear Boat Ride
Take a Clear Boat Ride for the ultimate underwater viewing experience in Cancun. Witness the colorful marine life and coral reefs without getting wet. This option gives your whole family the opportunity to view the underwater world of Cancun together. It's perfect for those who might not be able to swim or those who simply want to take a break from the water.
Ages: 1 years old and up *Free for under 4 years old
Duration: 1.15 Hours
5.- Catamaran ride to Isla Mujeres "Family Edition"
Take a break from the city and head over to Isla Mujeres on a family catamaran ride. This is a perfect opportunity to explore the island, swim in crystal-clear waters, and even snorkel. This adventure also includes a buffet-style lunch, live entertainment, and activities throughout the day that are fun for the whole family.
Ages: 5 years old and up
Duration: 7 Hours
6.- Xel-Ha Park
Xel-Ha Park is a natural wonderland and paradise for families. Here you can snorkel in the crystal-clear waters of a natural inlet, float down a lazy river, cliff jump, cycle through the jungle, and explore ancient ruins. This theme park is perfect for adventurous families who love nature and fun.
Ages: 2 years old and up
Duration: All day
In conclusion, Cancun has endless options for family-friendly activities. Whether your family is looking to explore the outdoors, learn about history and culture, or simply have fun together, there is no shortage of things to do. So, book your tickets today, and experience the adventure that Cancun has to offer.
For more information on booking these adventures, please check out our website. Don't miss out on these unforgettable family experiences. Book now!