We have been discovering, enjoying and sharing unique experiences through diving, paddle surfing, kayaking and snorkeling for more than 10 years. Without stopping there, we also offer guided tours of the most spectacular archaeological sites in the region and, perhaps, the entire world.
Our service is personalized, professional, safe and with highly competitive rates. We know how to create an adventure and turn it into one of your most unforgettable experiences. We have a special love for exploring cenotes, rivers, oceans and lagoons in the area and we want to share that joy with you.
These are the members of the Highlife Mexico family.
Kayak Expert and Surf Instructor
Camila is part of the lagoon like the fish and the birds. She discovered her love for water sports at the age of 15 when she started giving windsurfing lessons, since then she knew what she wanted to do for the rest of her life and became an expert, mastering kayaking and surfing.
She learned ancestral knowledge from the first explorers who traveled the lagoon and has been part of important events such as Global Green Peace, El Cruce, Limpiezas con Corazón de Mar, Wetlands Workshop, etc.
When he's not paddling a kayak, he's riding a surfboard or enjoying herself on her longboard.
Whether in the ocean or in the lagoon, Camila is the perfect person to go on an adventure.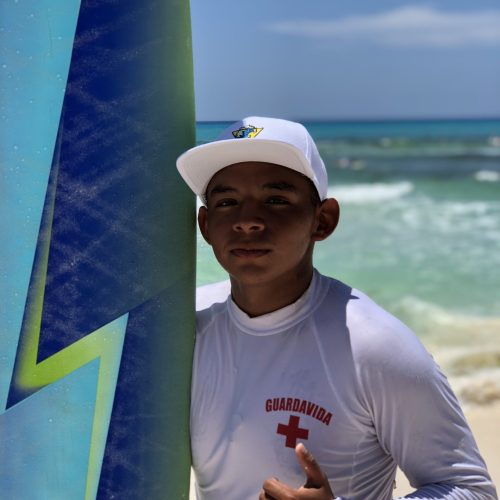 Junior is our youngest surf instructor and he's in love with bodyboarding and surfing! He has competed in state events, earning 1st place in bodyboarding on two occasions.
When junior is not in a board he's also inside of the water, working as a certified lifeguard along with civil protection (government entity) and helping as part of an underwater rescue team.
He's a passionate instructor who loves to teach and work specially with kids and nervous people to help them become great surfers! So we're sure you're in the best hands while learning with him!
Born in Mexico City, has lived 13 Years in Cancun and is absolutely in love with the Mexican Caribbean, loves to kayak, paddle board, lay on the beach and talk to people from all over the world.
Sab is a pioneer adventurer on the Nichupte Lagoon, she helped map the routes for the first kayaking tours, participates in multiple important events and competitions and constantly creates events that promote the conservation of the lagoon.
When she is not kayaking or doing Highlife Administration jobs, you will find her shooting arrows or having a relaxing time with her dogs and family.
Kayak Expert and Surf Instructor
Cool Gibraltarian guy, kayak instructor, surf instructor, professional LEGO builder and car enthusiast, Dylan is the perfect guy to explore the Nichupte Lagoon with.
Dylan is a volunteer in the Highlife Mexico family, and works in exchange for accommodation in Cancun! He has his own room and access to all facilities. If you want to join our family just like Dylan, make sure you contact us about our volunteer exchange program.
PADI Scuba Instructor, with 15 years diving in the Cancun area and 10 years teaching and sharing this wonderful activity with many people from different countries, she spent her career teaching in renowned schools in the area, which has given her a lot of experience teaching, exploring, and knowing the reefs and best diving spots! She makes at least one trip a year to places she hasn't been! Her plan is to travel more! Although she will always return to Cancun, which has become her home.
Born in San Luis Potosí but local to Cancun by heart, former professional soccer player who fell in love with water sports and decided that this is what truly makes him happy.
Jhared use to think that the ocean and the beach was top best but when he saw and kayaked in the lagoon, he understood his time belong to it, now, he's one of our professional kayaking guides, with such passion and heart, he will make you fall in love with the lagoon just as he became.
Kayak Expert and Surf Instructor
Born in Temozón, a magical town in the Yucatán Peninsula, experienced kayak and surf instructor but overall, completely in love with the hidden treasures of these Mexican lands, you will enjoy talking with her about Mexican culture and hear all the amazing stories about her ancestors. Jackie is such a caring human being who will make you feel comfortable in any situation.
When Jackie is not adventuring with Highlife, she's in Temozón taking care and having fun with her family.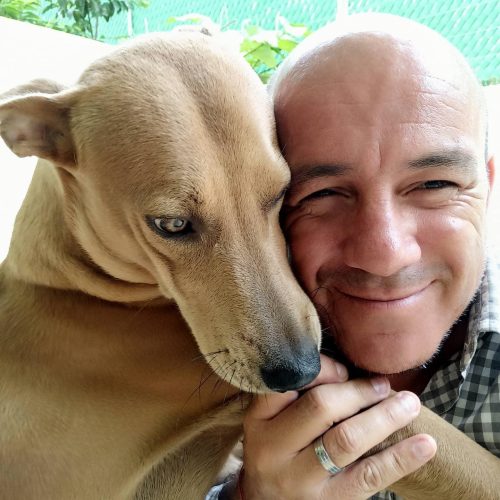 Passionate about martial arts, he practiced Japanese Goju Ryu Karate for 17 years, where the nickname of Joko comes from "Joko Geri = side kick".
Storyteller at heart, inveterate traveler and creator of a television concept called "Jokotorreando" taking us all to a journey through the lens of his camera to a whole new generation of travel roads, reaching remote destinations full of magic and history, encouraging people to travel and inviting us to experience at first-hand the great opportunity to regain our ability of amusement.
Born in Guadalajara, has lived in Cancun for 17 years and loves everything related to the ocean, nutrition & traveling.
Steph is a yogui practitioner for more than 13 years, she teaches SUP yoga (paddle board yoga), ashtanga vinyasa & Rocket yoga.
She is currently studying her 2nd degree in clinic nutrition.
In her free time she loves to skate, be with her dog, friends & family.
Kayak Expert and Surf Instructor
His love for water sports started 15 years ago as a kite instructor and now he's one of the best kite and surf instructors in Cancun, his laid back teaching method will encourage you to find your own essence and path within every water sport he teaches.
When Carlos is not at the beach, you will find him lost in the jungle or taking a ride in his boat and jetski at the lagoon with some friends and good food.
Experienced lifeguard and surf instructor born in Mexico City, he dedicates his life to surfing, his family, a good book and music. Mau is the perfect guy to have an instructional and professional surf lesson with a hint of the best and fun day of your life, will make you feel like a champion in the water, perfect instructor for little kids and nervous adults.
When Mau is not surfing, you will find him… surfing, because it's literally all he wants to do.