Preparing for Your Journey
Passports, Visas, and Permits:
Before jetting off to paradise, make sure your passport is valid for at least six months beyond your travel dates. Most visitors to Mexico, including citizens of the United States, Canada, and the European Union, don't require a visa for tourist stays less than 180 days. However, it's wise to check the specific requirements based on your nationality and obtain any necessary permits in advance.
Currency and Payment Methods:
The official currency in Mexico is the Mexican Peso (MXN). While many places accept major credit cards, it's advisable to carry some cash for small vendors and local markets. Currency exchange centers are readily available, but it's a good idea to have some pesos on hand for immediate expenses upon arrival.
Packing Essentials:
When packing for your Cancun adventure, consider the tropical climate. Essentials include:Certainly! Here's your packing list for your Cancun vacation, broken down into a list of essential items:
Lightweight and Breathable Clothing:
T-shirts
Tank tops
Shorts
Dresses (for evenings)
Lightweight long-sleeve shirts (for sun protection)
Comfortable walking pants or leggings
Swimwear
Footwear:
Comfortable walking shoes or sandals
Water shoes for rocky areas and water activities
Flip-flops or sandals for the beach
Sun Protection:
High SPF sunscreen *REED FRIENDLY
Lip balm with SPF
Aloe vera gel for sunburn relief
Sun hat or cap with a visor
Insect Repellent:
Insect repellent spray or lotion
Travel Documents:
Passport and/or visa
Travel insurance documents
Copy of your passport (stored separately from the original)
Itinerary and hotel reservations
Miscellaneous:
Beach towels (if not provided by accommodations)
Snorkel gear (optional, if you prefer your own equipment)
Waterproof pouch or dry bag for valuables at the beach
By ensuring you have these essential items, you'll be well-prepared to enjoy your Cancun vacation to the fullest! Safe travels and have a fantastic trip!
Must-Do Activities in Cancun
Scuba Diving: Exploring the Underwater Wonderland: 4 HOURS
Whether you're a certified diver or a beginner, Cancun offers exceptional diving opportunities. Certified divers can explore the Great Mayan Reef, the world's second-largest coral reef system, teeming with colorful marine life. If you're not certified, don´t worry, our certified Diving School can provide a one time lesson prior to your diving and safe diving adventures without the need to take a whole course.
Catamaran Adventure to Isla Mujeres: 6 HOURS
Hop aboard a catamaran and set sail to the nearby Isla Mujeres. Snorkel in pristine reefs, relax on the island's picturesque beaches, and enjoy a delicious beachfront lunch. The rhythmic sound of the waves and the sea breeze enhance this idyllic experience, making it a quintessential part of your Cancun adventure.
Contoy Island Excursion: A Nature Lover's Paradise: 7 HOURS
Embark on a Contoy Island trip to indulge your senses in the untouched beauty of nature. This uninhabited island, declared a National Park and Bird Sanctuary, is a haven for birdwatchers and marine enthusiasts. Snorkel in the crystal-clear waters, observe exotic bird species, and relish a picnic on the pristine beaches. It's a day of natural splendor you won't soon forget.

Kayaking Adventure in the Nichupté Lagoon: 2.3 HOURS
Immerse yourself in the tranquility of the Nichupté Lagoon on a kayaking adventure. Paddle through winding waterways surrounded by mangrove forests and diverse wildlife. The lagoon's calm waters make it ideal for kayaking, allowing you to connect with nature while discovering hidden corners of Cancun's natural beauty.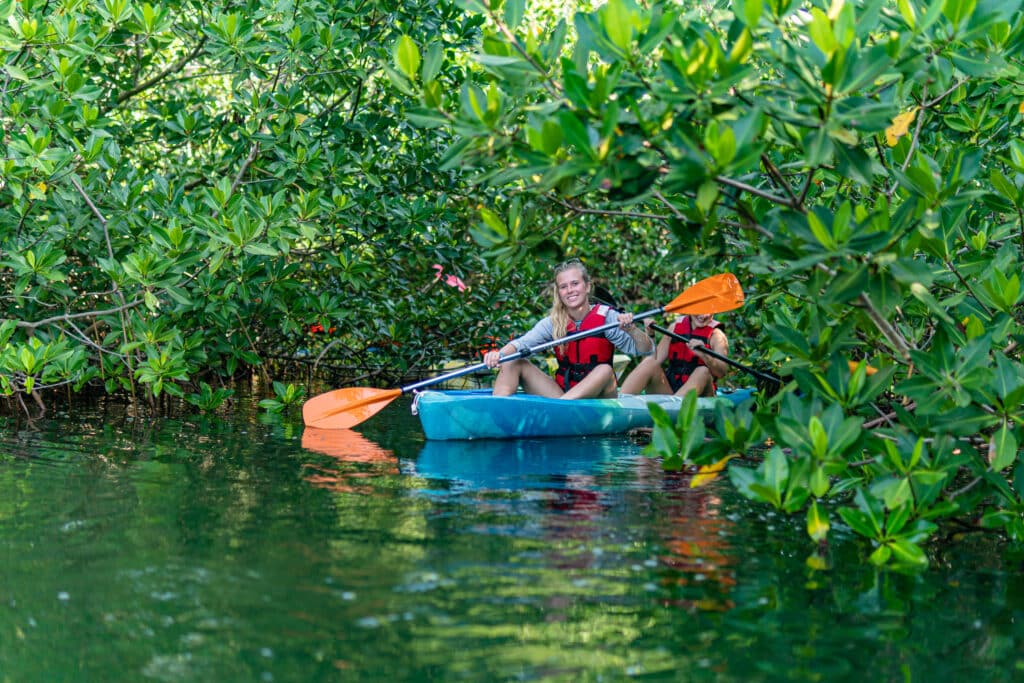 Crafting Unforgettable Memories in Cancun
Armed with these invaluable travel tips and an exciting itinerary, you're poised to create unforgettable memories in Cancun. From the depths of the ocean to the heights of ancient pyramids, Cancun invites you on a journey filled with adventure, culture, and natural beauty. Embrace the spirit of the Mexican Caribbean, savor the local flavors, and immerse yourself in the warmth of Cancun's hospitality. Your dream vacation begins here, promising a world of discovery and enchantment in this tropical paradise! Safe travels and happy exploring!